I will create a memorable Logo for your company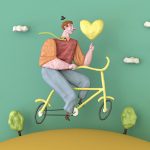 Experienced Graphic Designer focused
on branding, online and advertising design.
I am fluent in Photoshop, Illustrator, InDesign, After Effects and Autodesk Maya. I'm a creative problem-solver, able to handle projects from concept to completion, always on-time, always on-budget.

My work has been featured in several prestigious publications like Mascotte,
published by Delicatessen, Illustration Now! edited by Taschen and The New
York Society of Publications Designers.


100% Secure
Job is done or money back
You pay only the listed price without any hidden costs.
We keep your money until you are happy with the delivered work.
The job will be done or your money will be returned.
A logo is a fundamental part of any business, it is the combination of text and imagery that reveals your identity and makes your business stand out from the crowd. A logo is, in a way, the face of your company, and is the best tool to boost brand recognition and brand loyalty. A good logo must be eye catching, memorable and communicate, at a glance, the spirit of your company. If you are willing to take your business to the next level the first step is to create a professional looking logo.
Why Choose Me
- 15 years experience
- Skilled senior graphic designer
- Experience in branding, web, digital and print
- 100% committed to your project
Are you looking for something extra or different to what this package has to offer?
If so, please click on the Request Custom Offer button, and I will be happy to provide you with a Custom Offer.

How Does The Design Process Work
1. Upload a detailed brief with all the specifications for this project
2. We will contact you through the Website Chat before starting your project
3. We will supply you with 2-3 design concept/s for your review
4. We'll do the necessary revisions to your chosen concept
5. Once the logo design is approved, I'll prepare your files.

You will receive:
Source files supplied as an editable Illustrator vector file of final design only.
High resolution 300DPI image in jpg and png formats (suitable for print)
Low resolution 72DPI image in jpg and png format (suitable for web)
Each project is unique so please contact me first before making a purchase, so that we can discuss your requirements. Thank you!
1 Design Concept + File
US $ 429.00
1 Logo design concept with a colour palette guide.

What's included?
Bespoke Design
Full Right License
Source File
High Resolution
Logo Transparency
Revisions: 2
Delivery Time : 11 days
1 Design + Business Card
US $ 571.00
1 Logo design concepts with colour palette guidelines, plus 1 business card design.

What's included?
Bespoke Design
Full Right License
Source File
High Resolution
Logo Transparency
Revisions: 2
Delivery Time : 11 days
Full Brand Package
US $ 857.00
1 Logo design concepts with a brand style guide, with stationery set ( letter head, business card, envelope ) design.

What's included?
Bespoke Design
Full Right License
Source File
High Resolution
Logo Transparency
Stationery Set Design
Brand Style Guide
Revisions: 3
Delivery Time : 15 days
| | BASIC | STANDARD | PREMIUM |
| --- | --- | --- | --- |
| Name | 1 Design Concept + File | 1 Design + Business Card | Full Brand Package |
| Description | 1 Logo design concept with a colour palette guide. | 1 Logo design concepts with colour palette guidelines, plus 1 business card design. | 1 Logo design concepts with a brand style guide, with stationery set ( letter head, business card, envelope ) design. |
| Bespoke Design | | | |
| Full Right License | | | |
| Source File | | | |
| High Resolution | | | |
| Logo Transparency | | | |
| Stationery Set Design | | | |
| Brand Style Guide | | | |
| Delivery Time | 11 days | 11 days | 15 days |
| Revisions | 2 | 2 | 3 |
| Price | US $ 429.00 | US $ 571.00 | US $ 857.00 |
| Order | | | |