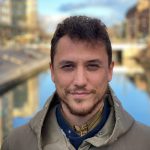 Member Since:

22 June 2021
Avg. Response Time:

Not enough messages
Recent Delivery:

No delivery
Description
Hi! My name is Uriel, I'm a graphic designer and illustrator from Argentina based in Barcelona.

Most of my experience consists of working with branding design and illustrations, as a job and passion at the same time. I love to create an unique and exciting visual intention for every project that I'm involved and bring its entire composition to a level of emotions and senses.

Feel free to reach out to me through Pixecart for collaborations or exchange some music playlists.
Skills
Brand Design
•
0
Graphic Design
•
0
Illustration
•
0
Kinetic typography
•
0
Adobe Illustrator
•
0
Adobe Photoshop
•
0
Brochure Design
•
0
Icon Design
•
0
Social Media Content
•
0
Infographic
•
0
Education
Escuela de Diseño Rosario Argentina
Licenciado en Artes Visuales y Diseño,
Graphic Design,
Licenciado
Activities and Societies: - Graphic Design
- Branding Identity
- Packaging
- Editorial Design
- Social Media Content
Graphic Designer studies for four years.
Certification
Expert on Graphic Design
Authority: Escuela Superior de Diseño de la ciudad de Rosario
Add or edit
certification