I will turn your photo into unique 2d portrait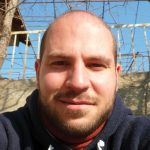 I'm a graphic artist experienced in lettering and character design.

At this moment, I work on 2D illustrations for cartoons, portraits, book covers packaging and logo design in Photoshop and Illustrator.

I'm also familiar with video editing - working on my YouTube channel, where I present new trailers for old classic movies.

So, seize the moment, send me your project request and let's create together.


100% Secure
Job is done or money back
You pay only the listed price without any hidden costs.
We keep your money until you are happy with the delivered work.
The job will be done or your money will be returned.
Are you searching for a stylish fresh look for your album or magazine cover? Well, you are in right place!
Bespoke digital portraits are gaining extreme popularity. They are more and more used for many purposes: athlete portraits for famous magazines; for album's original cover; for book covers; for blogs etc.
Why you should choose me as a portraitist?
Because, I am a passionate artist! I work as an artist 10 years, studying interesting ways to portray a human expression and gesture. My favorite portrait artists from XXI are Cornelia Hernes, Sam Brisley and Ryan Gajda, from past, I think, Rembrandt and Vermeer.

Are you looking for something extra or different to what this package has to offer?
If so, please click on the Request Custom Offer button, and I will be happy to provide you with a Custom Offer.
How the process works?
1. Upload a detailed brief with all the specifications for your project;
2. I will contact you through the Website Chat before starting the project;
3. I will supply you rough concepts for review;
4. Once the portrait illustration is approved, I'll prepare your files.
Note: Source files supplied as an editable Photoshop (PSD) file of final illustration.
You will also receive High and Low Resolution 300 dpi PNG and JPG image files.
Each project is unique, so please contact me first before placing your order, so that we can discuss your requirements. Thank You!
What I can do for you?
From stylish-looking B&W portrait to original color portrait.
Why you choose me?
Because of my qualities: accuracy, style and details.
Media Player Error
Update your browser or Flash plugin
B & W Portrait
US $ 190.00
Bespoke black & white (crosshatching) 1 face portrait illustration, 1 concept plus source files. (Ex. in photos).
What's included?
Bespoke Design
Concepts Included
Source File
Full Right License
Figure
Revisions: 1
Delivery Time : 10 days
Colour Portrait
US $ 290.00
Bespoke classy colour 1 face portrait illustration with unique colour palette, 2 concepts plus source files.
What's included?
Bespoke Design
Concepts Included
Source File
Full Right License
Figure
Color Version
Revisions: 2
Delivery Time : 20 days
Advanced Portrait
US $ 890.00
Bespoke 2 figure colour portrait illustration with unique colour palette, shading, lighting and original background and texture.

What's included?
Bespoke Design
Concepts Included
Source File
Full Right License
Figure
Color Version
Unique Background/Scene
Revisions: 2
Delivery Time : 25 days
| | BASIC | STANDARD | PREMIUM |
| --- | --- | --- | --- |
| Name | B & W Portrait | Colour Portrait | Advanced Portrait |
| Description | Bespoke black & white (crosshatching) 1 face portrait illustration, 1 concept plus source files. (Ex. in photos). | Bespoke classy colour 1 face portrait illustration with unique colour palette, 2 concepts plus source files. | Bespoke 2 figure colour portrait illustration with unique colour palette, shading, lighting and original background and texture. |
| Bespoke Design | | | |
| Concepts Included | | | |
| Source File | | | |
| Full Right License | | | |
| Figure | | | |
| Color Version | | | |
| Unique Background/Scene | | | |
| Delivery Time | 10 days | 20 days | 25 days |
| Revisions | 1 | 2 | 2 |
| Price | US $ 190.00 | US $ 290.00 | US $ 890.00 |
| Order | | | |