Find the best talent and service for your business
Pixecart provides professional vetted freelance services on demand. Whether you need Graphic Design, Branding, Video Editing, WordPress, Illustration or Copywriting, Pixecart's experienced and trusted freelancers are ready to assist you.
Connect, hire and collaborate.
Start your project with us today!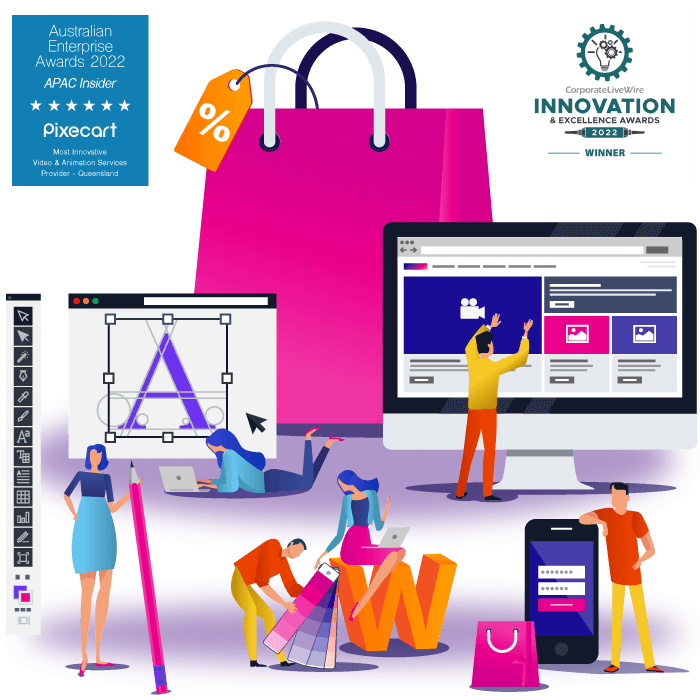 Success stories
Get inspired with projects created by our freelancers
If you like what you've seen and you're dreaming of your own success story, why not reach out to one of our freelancers today?
How it works
There are 3 ways to start a project
Find a service to purchase
Our amazing freelancers have been hard at work crafting their price-based packages for you to explore. Look at their work samples, pricing, inclusions, and reviews to find a service offering that's best suited for your project needs.
Find a freelancer to hire
If, you cannot find a service offering for your project, but would like to work with a particular freelancer, you can contact them directly by sending them a message or requesting a custom offer.
Post a job request
If you cannot find what you are looking for, and don't mind who you work with, why not 'Post A Job Request' it's FREE to post. Fill out the form and submit your project requirements. The freelancers will reply with a custom offer.
Note: You need to be a registered buyer to send a message, request a custom offer or to post a job request.
Frequently asked questions
Pixecart is for experienced and specialized product-related designers, developers, writers, marketers, and virtual assistance who are looking for a platform to grow their careers, business and to be part of an exclusive family where there is less competition to secure high quality work.
Yes, Pixecart reviews are legit. They are from genuine business and professionals who have hired a freelancer on the Pixecart.com platform for their writing and or design needs. With that been said buyers can sign up for free with no registration approval so there is always a risk that someone could post fake reviews.
We only accept experienced professionals that are specialists in their field.
We don't allow inexperienced sellers to join our platform unlike other freelancing websites.
We only allow freelancers who use standard industry software.
We prefer freelances that have agency, studio, and printing experience.
All freelancers must pass our selections process before they can advertise their services on the platform, unlike other freelancing websites.
We chat with the freelancers who have passed our selections process via zoom to get a better understanding of their communication skills and creative abilities.
To create an account on Pixecart.com, please click on the 'Register' button, and select the user account type, Buyer, or Seller. The sign-up process takes less than a minute to complete!
Yes, Pixecart is free to register for Buyers and Sellers. Buyers can post free requests for quotations and Sellers can post their services for free, however there is a processing fee for both Buyer and Seller when an order is placed.
No, Pixecart only allows experienced freelancers on the platform. The freelancer needs to have a minimum of 4 years industry experience for their Seller application to be approved. To learn more, go to the 'Become a Seller' page.