Written By: Strokedmarketing
Pixecart is an award-winning creative freelancing marketplace that offers a wide range of design and promotional services by experienced freelancers to both small and large businesses.
May 16, 2022: Pixecart is pleased to announce that the company has recently been awarded the esteemed award of Most Innovative Video & Animation Service Provider for Queensland by Australian Enterprise Awards. The rising Brisbane-based creative freelance marketplace was nominated for the award by APAC Insider within the Marketing and Sales Category. The prestigious award was conferred upon Pixecart in March 2022.
A creative freelance on-demand service company with a difference, Pixecart offers thoroughly vetted creative freelance services by experienced professionals to both small and large scale businesses. The company serves as a global marketplace that helps businesses to connect, hire, and collaborate with trusted and skilled freelancers for their advertising and marketing needs.
The Australian Enterprise Awards is one of the most coveted awards among Australian businesses and the acknowledgment from the esteemed body serves as a huge boost to rising startups. Per the statements of Monz, the co-founder of Pixecart, "the recent award marks a huge milestone for the company".
"We are thrilled to share with all of you that we have recently been acknowledged with the prestigious award of Most Innovative Video & Animation Service Provider for Queensland by Australian Enterprise Awards. It's a huge milestone and achievement for Pixecart to receive the award, especially because we are still in the early stages of our business. Unlike most of the new businesses that are crowdfunded, we are a completely self-funded startup and this award means a huge boost to us", stated Monz.
"Our heartfelt gratitude to the Australian Enterprise Awards for recognizing us with the honor. It will serve as a huge inspiration for our hardworking team to keep up the good work and scale the startup to new heights. We would also like to take this opportunity to express our gratitude to APAC Insider for believing in us and considering us for the nomination."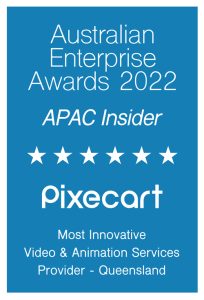 An initiative by two dynamic entrepreneurs, Monz Pixecart was chosen by Regional Development Australia Brisbane as a digital startup and was invited to exhibit at the 2016 Click! Digital Expo. They started as a digital agency but a couple of years back, they decided to change the company into a boutique creative freelance marketplace with a difference. The company was officially registered in 2021.
Added to video and animation, Pixecart provides various other freelancing services, including website and app design, graphic design, art and illustration, product and visual design, as well as copywriting and proofreading.
Speaking on, Monz stressed that Pixecart is extremely particular about quality and customer satisfaction.
"At Pixecart, we follow an extremely strict vetting process for assessing and selecting our freelancers for our clients. We hand-pick the most qualified and credible freelancing professionals who hold a vast know-how about their industry and are able to contribute productively to the marketing and promotional needs of your business. Your satisfaction is the most significant for us."

Partner with Pixecart for guaranteed project success
Make your next marketing project or campaign a smashing success, by hiring a Pixecart freelance professional to create a one-of-a-kind print, and online marketing materials for your business.